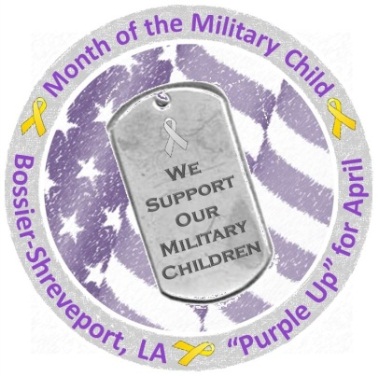 Did you know?
The Secretary of Defense Caspar W. Weinberger in l986 designated each April as "The Month of the Military Child".
The month's purpose is to recognize the contribution that the military child makes as their parent or parents serve our nation.
Purple is the color that symbolizes all branches of the military, as it is a combination of Army green, Marine red, and Coast Guard, Air Force, and Navy blue
The Bossier community is home to over 2,000 military children ages 4-18
The life of a military child is filled with unique challenges such as parent deployments and reintegration and frequent moves
How can you help?
Offer special discounts throughout the month for military children – i.e., a restaurant could offer "Military Child Mondays": Mondays in April all military children receive a free ice cream cone with their meal.
Donate gift cards and other door prizes to be given out to military children throughout the month of April.
Bossier Parish has designated April 2021 as our official local Purple Up Day.
Display supportive statements such as "We Support Military Kids" or "Purple Up for Military Kids" on your business marquee.
Encourage employees to "Purple Up" by having a casual day and wearing purple shirts during the month of April.
Contact Kattie Hollay, Military Relations Liaison for the Bossier Chamber of Commerce, at 746-0252 or

mrc@bossierchamber.com

for more information or to offer your assistance during the Month of the Military Child.
Contact Holly George, Supervisor of Special Programs at Bossier Parish Schools, at 549-6813 or

holly.george@bossierschools.org

to inquire about other ways you can support the military children of Northwest Louisiana.
Sponsored by: